Landscape Construction Atlanta, GA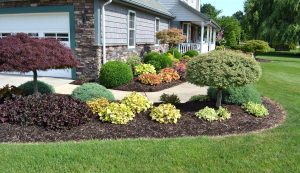 A&C Development Inc. can add beauty and value to your home by constructing a custom landscape. A professional and unique landscape construction can maximize your outdoor living space and make your home feel like a castle. Having a professional landscape contractor to construct your landscaping plan is also one of the most cost-effective ways to raise the market value of your property.
A&C has been serving Atlanta, GA for 75 years. We offer landscape construction services for both residential and commercial projects. Our staff credentials include a Registered Landscape Architect, ARCSA AP, GA Licensed General Contractor, LEED Accredited Professional, GSWCC Certification, and more!
Our complete landscape construction process consists of much more than just adding a few plants. Whether it is an entirely new installation or an upgrade to a small section of your property, we treat each job with the same high level of service and attention. Once your job has been installed, we can also provide landscape and hardscape development.
Landscape Construction Start with Good Design
High-quality landscapes must first begin with high-quality design, which is why A&C places such emphasis on both the initial consultation and then the following design period. A landscape can only be successfully constructed if those in charge of creating it have experience and create a plan of action.
A&C Development Inc. standards are high, we only hire the best and brightest in landscape construction, because we are a results-driven, and understand that good design is only effective when properly carried out.
Landscape Construction to Suit Your Needs
When you're planning to enhance your outdoor area, it makes sense to stick with one company throughout the process. When you rely on multiple companies for your project, there's always the risk that something will slip through the cracks, leaving you with something that's less than perfect. There's no need to settle for anything less than exactly what you want, especially when achieving those results is as simple as calling A&C number (770) 452-1169. By working with A&C from start to finish, you can rest assured that your vision for the perfect landscape will be achieved.
Need Help?
Get in touch with us for more detailed information on our services, and we'll be happy to answer any questions you might have and schedule a timely visit to your property.